More than 15,500 students in thirteen editions endorse us.
The Summer Camp Vicente del Bosque has established itself as a concept of education and physical activity that promotes sports and values such as: friendship, integration and camaraderie. We have more than 15 years of experience in organizing sports training projects with a qualified and highly qualified team. Always under the supervision of the ex-National Selector,
Don Vicente del Bosque.
The Campus Mallorca Vicente Del Bosque 2023 will take place from June 26th to August 11th (7 weeks) in various locations:
Main Centre

Calvià – Agora Portals

from June 26th to July 28th, 2023 (5 weeks)
Sub-locations
Colonia de Sant Jordi – Best Swim Center
July 10 to 28, 2023 (3 weeks)

Manacor
July 31 – August 11, 2023 (2 weeks)
Vicente Del Bosque Football Academy presents the
I edition of the "MIFC Women's Tournament"
and the
II edition of "Mallorca International Football Cup - Vicente Del Bosque".
Sports training acquires an integrating, cultural, social, family and international value.
WOMEN'S TOURNAMENT
From 6 to 9 April 2023
II MALLORCA INTERNATIONAL FOOTBALL CUP
From Friday 23 to Tuesday 27 June 2023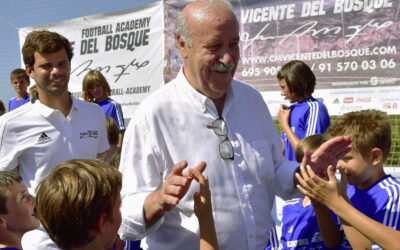 From the organization of Vicente Del Bosque Football Academy we are pleased to announce that we have already updated all the information and open registrations on our website for the Campus Vicente Del Bosque 2023. More than 13,500 students of 26 nationalities over...
Campus presentation video
With this spectacular video we present the next edition of the Vicente del Bosque Summer Camp to the press and the whole world and we kick off the first reservations.
We are happy to serve you
We are Gevial Hermanos SL, a company with more than 10 years of experience in the world of sports. We work throughout the year on this project, but it is in the months prior to the celebration of the Campus and during the celebration of these when our staff increases to 100 people. A whole team dedicated body and soul to your child having the time of his life and learning the values that only Vicente del Bosque can transmit. We have nothing to hide, so we very clearly give you all our data: Gevial Hermanos SL Calle Melquiades Alvarez, 2 – 1 IZ, Madrid, 28003, Madrid. CIF B83148478.
Telephone
+34 680 87 57 13 / 609 62 12 98
"*" indicates required fields