We are an organization committed to the development of high-quality sports and educational programs
The academy is the responsibility of the management of Don Vicente Del Bosque who, together with Pau Albertí as Technical Director, provide the work program and set the guidelines to be followed in national and international projects and events. Vicente del Bosque Football Academy collaborates with International Partners in the creation and development of sports projects based on the Vicente Del Bosque methodology and sports training in values for young players of training age, football coaches, professional clubs and international academies.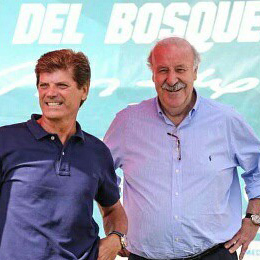 We focus on the training of young soccer players through the philosophy, methodology and game model of Don Vicente Del Bosque, which he has applied throughout his career as a trainer and coach, winning the World and European Championships in 2010 and 2012 respectively with the National Team. Spanish Soccer.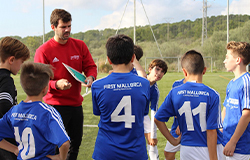 Transmit our knowledge and professional experience to young players, coaches, clubs, academies and organizations interested in receiving reinforcement training under the Vicente Del Bosque methodology.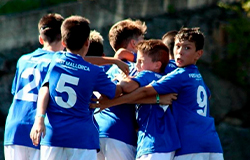 Creation of international agreements to offer sports experiences with comprehensive education and professional sports training so that they can face, with guarantees of success, the sporting challenges that arise in the future.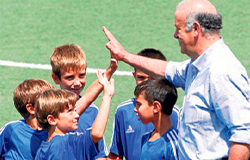 Transmit the values of the sport represented by Mr. Vicente Del Bosque and for the academy players: Tolerance, respect, solidarity, friendship, fair play, integration, effort and happiness.

Vicente del Bosque Football Academy is a worldwide project of sports training in values, with more than 15,500 students of 28 nationalities participating.
Since our inception in 2011, Vicente Del Bosque Football Academy has experienced rapid expansion nationally and internationally. The first years began with summer campuses in seven host cities in Spain. Subsequently, the project of the high level academy based in Mallorca was inaugurated and we fast forward to the present and we have organized more than 150 sporting events in 15 cities / venues in Spain and in 7 international countries (Denmark, France, Russia, USA, UK, Portugal and China) with the participation of more than 15,500 children from 28 countries on 5 continents and the training of 450 international national coaches.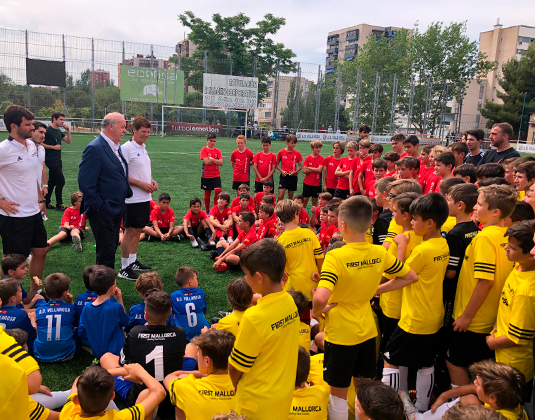 Vicente del Bosque Football Academy is made up of a team of qualified professionals
with extensive experience in training and professional sports training at a national and international level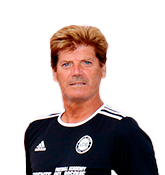 Pau Alberti Cabot
Managing Director
Founder Vicente Del Bosque Football Academy.

Former Professional Physical Trainer La Liga: Real Madrid CF, RCD Mallorca, Levante UD, Racing de Santander, Celta de Vigo

Former Professional Physical Trainer Al Ittihad (Saudi Arabia).

Former Director FC Barcelona Academy Balearic Islands.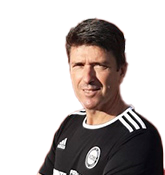 William Pons
Coach
Official Coach Vicente Del Bosque Football Academy.
Official Trainer International Projects Denmark and Russia.
Former FC Barcelona Academy Illes Balears Coach.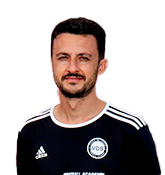 Ed Huertas
Coach
Official Coach Vicente Del Bosque Football Academy.
Coach of the 3rd Spanish Football Division.
Professor National School of Trainers.
Training soccer coordinator.
We offer a personalized sports service to the needs and interests of each partner and client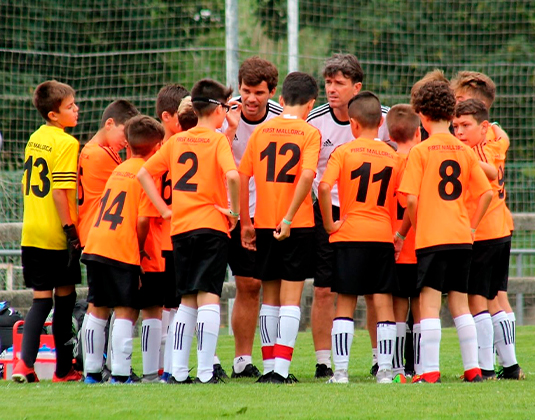 The Vicente del Bosque Soccer Academy develops training programs and sports experiences in national and international territory, which help young people in their development stage and coaches to improve and complement their training with new experiences that they will remember for a lifetime.
The academy reaches collaboration agreements with national and international companies (Partners) for the development of these programs through the creation of new offices or franchises.
Vicente Del Bosque Football Academy.
Summer Camps.
Coach Clinics.
Spain Experience Tours.
Training Camps.
International tournaments.
* There are no refunds of payments made for cancellations in sports experiences that are not due to force majeure, illness or justified injury.